Art Tour of Seaport
Jun 02, 2020
Discover a world of art and inspiration when you take a stroll down Seaport Boulevard. From elegant paintings to custom sculptures, our Seaport neighborhood has it all. Keep an eye out for these works of art on your next stroll down our streets.
Okuda San Miguel | Creation: Water
Starting on the westside of Seaport Boulevard, the first stop on this art tour is Creation: Water. In this sculpture, water is represented as a colorful, flattened wave, and Okuda San Miguel asks viewers to consider how Boston has risen from the sea. When you take the 12-minute walk to this piece, you'll leave thinking about how the sea has defined Boston's origin story and how it will influence its future development.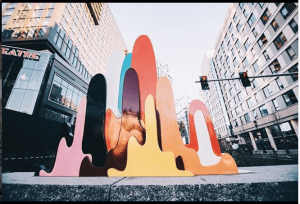 Frank Stella – Damascus Gate (Stretch Variation I), 1970
Don't forget to look up or you might miss the reproduction of Frank Stella's original work, Damascus Gate (Stretch Variation I), from his acclaimed Protractor series in 1970. This bright and beautiful painting is meant to represent the neighborhood's commitment to the arts and was named after ancient sites in Asia Minor. This stunning piece is located an 11-minute walk from Ora Seaport.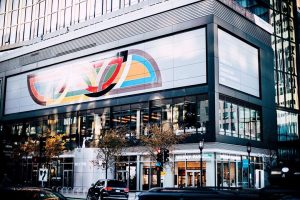 Okuda San Miguel | Mythology: Being 1
Our next stop is Mythology: Being 1, Okuda's vision of a human-fish-bird hybrid that ties humans to the animal world. This unique sculpture is meant to show that we belong to a delicate ecosystem that we must take care of. To do so, Okuda sculpted a bird sitting on a human head with fish scales, floating in a puddle of water. Visit this adaptation of the relationship between mankind and the animal kingdom, just a 10-minute walk away.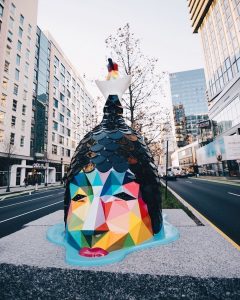 Okuda San Miguel | Diversity: Domestic
Okuda's next colorful installation references coexistence and sits a 7-minute walk from Ora Seaport. Diversity: Domestic shows a squirrel holding a pigeon, or a bird in hand, that represent domestic creatures. These two animals were chosen because they can be found where humans are, whether they're stealing food or picking up our trash.
Okuda San Miguel | Natural Balance: Coexistence
The next sculpture in Okuda's Air, Sea and Land installation is Natural Balance: Coexistence, that depicts a human hand holding a dove. This is meant to show that humans and animals have vastly different ecosystems, yet they still work together in harmony. It is a reminder that as we continue to develop the natural world, we must keep the universe's natural order. Find this one-of-a-kind piece just a 7-minute walk from our front doors.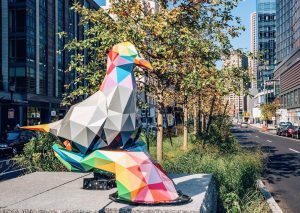 Okuda San Miguel | Diversity: Wild
Standing tall, you'll find Diversity: Wild, a unique sculpture from Okuda San Miguel and the last stop on our tour that puts you just a 6-minute walk from Ora. This multicolored deer represents the wild creatures of the animal kingdom, and Okuda created it to suggest that the natural characteristics of an animal must be free to keep our environment balanced.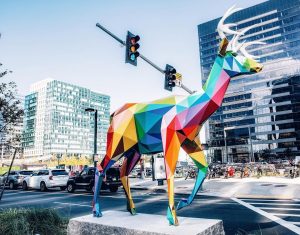 Seasonal Art Installations
Along with these permanent staples around Seaport, you can also find seasonal art installations popping up. Some past installations include Entres Les Rangs, thousands of white crystalline stems topped with white reflectors that represent fields of wheat that shimmer in the wind. Another one is 20 Knots: Daffodils for Boston, 20-foot tall flowers created to celebrate both spring and the Boston Marathon.